Geoff Murrell interviews Kay Stonham, the co-writer and star of Robin And Wendy's Wet Weekends. This interview was originally conducted for Geoff's 'Robin and Wendy's Wet Weekends' Facebook group.

Hi Kay. Who's idea was the series?

I think Simon Greenall has already left a message on the site that he thought of the idea and I wouldn't want to contradict him. However creative ideas are more complex beasts than most people think. They usually go through quite a complicated development process so this is my memory of how the series came about...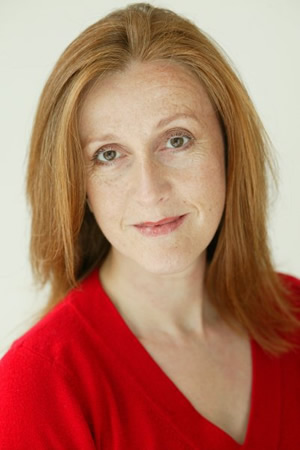 Simon and I had two small children in the 90's and took them to Legoland. Whilst looking at the Lego London I remarked that it wasn't very realistic as it had no little lego homeless people on the streets. This made us laugh and we began to talk about how model villages are about people trying to re-create the world as they would like it to be, a chocolate box view of the world that they can control the nasty things out of. We also went to a lot of Doll's House exhibitions as our daughter was obsessed with doll houses and we were fascinated by the "type" of people who spend their time making miniature things.

Around that time we were asked by Channel 4 to take part in a show called Barking, which was to feature "new" comedy writer performers working on their own material. Simon suggested we do something about a couple who have a model village as we both thought the world an interesting one and I thought it was a good idea. We developed the characters together and wrote six sketches all of which were filmed and appeared in the series. The series featured Catherine Tate, Marcus Brigstoke, Mackenzie Crook, Martin Trenaman and David Walliams among others. Channel 4 didn't re-commision the series but Channel X, the production company who made it, had been very keen on 'Mayfield', as our idea was then called, and I approached them with the idea of turning it into a sitcom. They commissioned two scripts and had a lot of interest from both BBC and ITV but unfortunately it was not commissioned. I was always convinced it would make a good sitcom however. At the time I had a radio series called Audio Diaries on Radio 4 which I had just been asked to write a fourth series for. I felt it had run its course and suggested we make a new series about Robin and Wendy instead. The BBC liked the script and agreed.

Why 'Wet Weekends'?

By the time it came to radio the idea had become less about the model village and more about those two particular characters and I wanted the name to reflect that. 'Wet Weekends' was a slight nod to Louis Theroux who was at that time doing his Weird Weekends series, and brought to my mind those boring rainy Sundays when I imagined Robin and Wendy in their garage painting tiny ambulances and clothes lines.

Why did Simon Greenall leave after Series 2?

Simon and I were a couple as well as a writing partnership and we split up in 2003. Simon wasn't keen to do another series so the BBC asked me to carry on writing it and re-cast Brian Capron as Robin.

Why were Debra Stephenson and Phil Cornwell replaced after Series 1?

I think both Debra and Phil had TV commitments which we were unable to work around. Putting a series together is very difficult logistically. Everybody is working on different things and there is only so much flexibility in the recording schedule

Who chose the theme music and why?

I think I chose the theme music but as I remember Simon and I both just thought the song very appropriate.

Which episode is your personal favourite?

Arriderci Coma is my favourite episode, I think it has the right mixture of comedy and darkness.

Did you plan all the relationships before writing the first series or did the sub-plots develop as it went on, e.g. Wendy and Jackie being old friends?

One series at a time. The back story of the characters grew as we went along.

Which episode (if any) would you re-write if you had the chance?

None of them, I enjoyed writing them all, some are less funny than others but you learn something about the characters from every episode I think.

Are any of the characters based on anyone you know?

Not really. My sister thinks the characters are based on her and her husband, but they're not. They're more about the traits that are in all of us. The pettiness, ungenerous and insensitive sides of ourselves, struggling with our need for kindness and optimism.

Robin and Wendy grapple with the vague feelings of disappointment and dissatisfaction with their lot - something that most people, at some time in their lives, struggle to control.

Who in comedy writing do you consider your greatest influence?

Not sure. I grew up with the sitcoms of the sixties and seventies so I suppose I was influenced by them, but I also love darker humour which creeps into Robin and Wendy. The series is a bit like The Good Life crossed with The League of Gentlemen.

Thanks very much Kay!